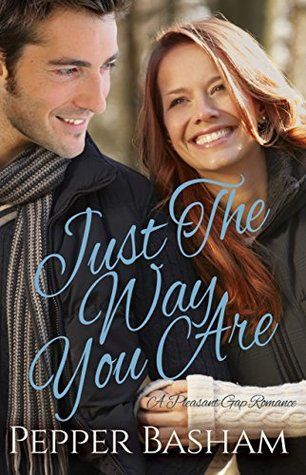 Summary:
Single mom, Eisley Barrett, prefers to keep romance housed within a centuries-old mystery, but when she travels to England to unearth the secret, an actor with a sordid past offers her heart a very different type of discovery.
Wes Harrison has a past he's ashamed to confess. Suspicious and cynical, he's managed to avoid romantic entanglements since a tragedy upended his career and life, that is until American Eisley Barrett comes along. Her authenticity and kindness upend his bitter assumptions and send his heart into unscripted territory.
When his past threatens to ruin a second chance at love, can some Appalachian matchmaking and letters from the grave salvage their unexpected romance?
Humor, love, mystery, cute kids, crazy families, and culture clashes make this Britallachian Romance a unique and delightful romantic comedy sprinkled with adventure.
Believe the hype, y'all! Just the Way You Are was fabulous! Sometimes there are books that I love so much, words fail me and the only coherent thing I can say is, "Read this! Now! You must!" This is one of those times, but I'm gonna try my best to get my thoughts in order.
It's a hilarious romantic comedy, but with many poignant moments and faith sprinkled all throughout. It also has one of the best opening chapters I have ever read. There was a really fascinating historical mystery to solve, too. And the settings were wonderful. The descriptions of Britain and Appalachia came to full vivid and colorful life. I caught myself with a big smile on my face, practically, throughout the entire novel.
Eisley's clumsy and sometimes her mouth can get her into trouble (saying whatever pops into her head out loud), but she's infinitely endearing. She describes Wes as 'Ghirardelli in human form' (which is so true, lol). He's kinda standoffish at first, "Mr. Frosty-and-Fabulous", but once the ice starts to thaw around him... oh man!... watch out! Swoon alert! This whole cast of characters were so great, real and likable, from Eisley and Wes (of course) to Mr. and Mrs. H. and Lizzie to Eisley's parents, Nate and Kay, Uncle Joe, her siblings and her adorable kids, Nathan, Peter and Emily. Nate is a hoot! The first time him and Wes meet?... lol... priceless!
One of my favorite quotes from this book was: "I've learned over these many years of my life that letting go of our fears is difficult, but when we do, God brings more than we imagined possible. We can't grasp what God has for us if our hands are holding to fear, can we?" Oh my goodness, how true is that? This spoke to me so much!
Just the Way You Are is a modern day, real life fairy tale that should not be missed. I can't recommend it highly enough!
For more information on this author, go to her website
here
.