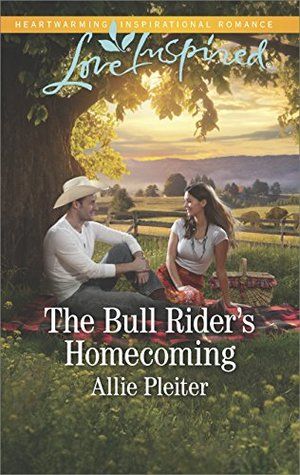 Summary:

Healing the Cowboy's Heart

When Luke Buckton left Blue Thorn Ranch, he'd hoped to return in a blaze of rodeo glory; instead, he's limping home with a busted leg. To get back on the circuit he'll need physical therapist Ruby Sheldon's help. Six years ago, he left Ruby behind, convinced she was too innocent for such a public life. Now his high school sweetheart is stronger, tougher and even more captivating. A high-profile success story like this could make Ruby's career. All she has to do is rein in Luke's bullheadedness, heal his injuries—and hope his reckless charm doesn't trample her heart again…
My Review:
Five Stars
The Bull Rider's Homecoming was my first Allie Pleiter book and even though it's book four in the Blue Thorn Ranch series, I was not lost at all. It can totally standalone.
Luke's rather surly after reluctantly coming back home after suffering a bad injury. He's bristly and has a bad temper, but hiding behind that facade are his fears and insecurities. I didn't know what to think about Luke. He's not super likable in the beginning, but I did completely understand his frustration with his current situation. Ruby's a strong woman. I admired her ability to stand up to Luke when he was being a bit of a jerk. They were high school sweethearts until he abruptly left town and left her behind. So, you could say they have a complicated history, but their chemistry was still great. I really liked the whole Buckton clan and am really interested in reading the first three books in this series.
I absolutely loved this book! I read it as fast as I could and didn't want to put it down. I was instantly sucked into these character's lives and sad to leave them behind when I finished. I'm definitely going to be checking out Allie Pleiter's other books! I highly recommend this book for anyone who loves swoonworthy romances!
I received a complimentary copy of this book and voluntarily reviewed it. All thoughts and comments are my own honest opinion.
Books in this series:
For more information on this author, go to her website
here
.